Download free "
The principles of mathematics

" by

Bertrand Russell

EPUB, MOBI, PDF, TXT, Kindle
---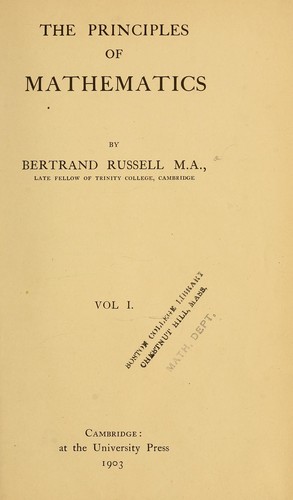 Free Find Ebook
The book was published in

1903
Language:
English
Book description:
Publisher:
No more published. The material on the subject originally intended to form the 2d volume was later developed into an independent work: Principia mathematica, by A. N. Whitehead and Bertrand Russell, published in 3 vols., Cambridge, 1910-13
.
Date:
1903.
Place:
Cambridge
Edition description:
No more published. The material on the subject originally intended to form the 2d volume was later developed into an independent work: Principia mathematica, by A. N. Whitehead and Bertrand Russell, published in 3 vols., Cambridge, 1910-13
Number of pages:
534
Language:
English
---
This book describes the following items:
Mathematics > Philosophy,